Anytime, anywhere Tune in to
hear Dr. Peeke host the wildly popular HER Podcast. Learn the naked truth about HER mind,
HER body and HER life.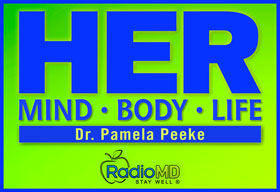 We'd really appreciate it if you could RATE the show while you're there and leave a REVIEW if you can. We always love to hear from you!
Considered a thought leader in nutrition, Heidi Skolnik has influenced millions through her media work, writing, and thriving consulting business.Considered a thought leader in nutrition, Heidi Skolnik has influenced millions through her media work, writing, and thriving consulting business.Heidi has been part of The Women's Sports Medicine Center…
Work WITH your physiology, NOT against it!Work WITH your physiology, NOT against it! Stacy Sims says her vision is a world of healthy women who understand their bodies, know how to work with their unique physiology, know their periods are ergogenic aids, and create positivity around being a woman in sport. Stacy Sims is a forward-thinking internati…
When Jillian Richardson moved to New York City, she realized what it meant to be truly lonely for the first time.When Jillian Richardson moved to New York City, she realized what it meant to be truly lonely for the first time. She had no consistent community – people who would wonder where I was if I didn't show up. Jillian was disconnected.Turns o…
Let's get down to the bone here. Many women are confused about how to optimize bone health.Let's get down to the bone here. Many women are confused about how to optimize bone health.Well, we're going to help you with this edition of Healthy Nutrition Nudges segment talking all about bone health and calcium-rich foods. Our chef in residence Chef Abb…
Raw. Authentic. Witty. Those are just a few words that describe our guest Jen Mann.Raw. Authentic. Witty. Those are just a few words that describe our guest Jen Mann. And with a blog called "People I Want to Punch In The Throat," they make sense.Jen Mann had what appeared to be a perfect life: a successful career as a bestselling author and award-w…